LINKS TO OTHER WEBSITES!

This is my free, personal website!Here's artwork and more...but of course, most of my
good stuff is inside Ero-Mania's members area ;)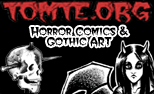 Tomte's website, guest artist of Ero-Mania and my boyfriend. He focus most on horror and gothic art on his own site, but draws some
really sexy stuff for Ero-Mania. We are also working on a horror comic project together, "Sally the ghost hunter"!

Tempy's website, also one of Ero-Mania's guest artists. Lots of nice stuff here! If you like his works, you shouldn't miss all his great art
here on Ero-Mania.